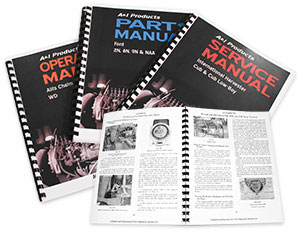 A&I Products is your one-stop source for new aftermarket parts and the manuals that go hand-in-hand with them. Over 13,000 Manuals available for OVER 200 Makes and THOUSANDS of Models. A&I Products is your source for Operator's Manuals, Service manuals, and Parts Manuals.
High resolution FULL reproductions of the manuals produced by the manufacturer of the equipment
Comb bound: The strongest and easiest to use binding available: Lays flat, does not break or come apart
Diagrams and schematics included as 11" x 17" fold outs
Value Added Content: Hundreds of our manuals include serial number runs, paint codes, and other content you will not get in any other manual
OPERATOR'S, SERVICE, & PARTS manuals compliment each other and save time and money
Operator's Manual
The operator's manual (sometimes referred to as the owner's manual) is the manual that came with the tractor when it was new, given to the end-user by the manufacturer. This manual gives the owner-operator instructions, shift patterns, capacities (anti freeze, crankcase, etc.), and adjustment procedures (brakes, clutch, etc.). This is a very useful and valuable tool in operating a tractor.
Popular Brands: Allis-Chalmers, Case-IH, Ford/New Holland, Gleaner, John Deere, Massey Ferguson, White/Oliver/Mpl Moline.
Service Manual
The service manual tells you how to take the tractor apart, how to fix it, and how to put it back together again. These are authentic manuals that deal with repairs in the language of a mechanic. Often times they include loads of valuable information as to specifications, torque settings, etc. If you or your customer are performing serious repairs or restoration, you need the shop service manual. It can give you many short cuts and save you much time.
Parts Manual
The parts manual has exploded views of all parts on the tractor with numbered images giving great detail on assembly and disassembly. It also serves as a guide for part numbers when ordering and searching for parts. Exploded views of the parts manual can greatly aid in reassembly. If a machine is disassembled in many pieces, without notes, the parts manual can help identify immediately how it all goes back together.